Sadly, the weather is getting cooler in North America. It will not be long before we retreat to our bulky sweaters, dreary colours, and styles that show less of our lingerie. But fall and winter do not have to be sad seasons. There are still many ways to use various pieces of lingerie to look great and keep your spirits running high.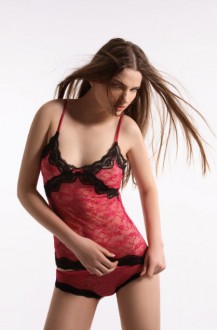 One of the most fashionable items to add to any wardrobe in cooler weather is hosiery. Tights and pantyhose have become as varied and as fancy as other lingerie items. Made of silk, nylon, spandex, ribbed knitting, modal and many other materials, tights or stockings can be elaborate works of art or plain solid colours which add splash and pizzazz to any outfit.
Another way to highlight your pretty lingerie is by wearing a soft cashmere v-neck sweater with a high camisole adorned with complementary coloured lace. If you must wear a blouse under your pullover, leave the blouse unbuttoned just enough to see a hint of the camisole's beautiful lace. For cocktail parties and dress up occasions, sheer dresses and blouses allow women the opportunity to show off tactful but sexy undergarments. And a romantic dinner might give you the opportunity to wear something very risqué underneath, all the while hinting at your unmentionables.
When relaxing at home, warmer silk items work well in the winter. Long rich pants and tops double as long underwear worn outside as well as lounging fashions when indoors. A pretty lace, chiffon or silk robe will add to the refined look. And of course, for those ladies that absolutely cannot stand the cold under any conditions, there are plenty of flannel robes, nightgowns, and pyjamas from which to choose.
So before you get too depressed with the fall season fast approaching, why not use it as an opportunity to freshen up your lingerie drawer and add some exciting intimate and sexy lingerie to your wardrobe.